Skip to Content
Eco-Friendly Pool Options
Eco-Friendly Pool Options In The Phoenix Metropolitan Area
Tribal Waters Custom Pools & Spas provides eco-friendly pool options throughout the Phoenix Metropolitan Area. Some of the primary options pool owners can choose to make their pool more eco-friendly include variable speed pool pumps, ozone pool water systems, pool filters, efficient lighting options, automation, and controlling systems. Not only do eco-friendly pool options help the environment, but they make fiscal sense as well. Below, we've gone into detail about six options that pool owners can take advantage of to make their pools more eco-friendly.
Variable speed pool pumps can cut energy use by up to 90 percent. They can be adjusted to deliver the correct water flow for pool cleaners, water features, and more. ENERGY STAR-certified pool pumps can save you more than $2,900 over their lifetime, paying for themselves in less than two years while also running quieter and prolonging the life of your pool's filtration system. Adding a water feature benefits water circulation and filtration by continuously moving the water. A pool pump is an essential part of pool filtration, not only because it keeps the water circulating but also because it can push dirt and debris out of the pool so that it can be discarded. Variable speed pool pumps come equipped with a pool pump timer not to run longer than the scheduled time.
Pool filters are essential for thorough pool maintenance, but most filters put a strain on water usage. However, efficient filter options are available. Larger-capacity filter cartridges can trap more dirt and require fewer cleanings than smaller-capacity filter cartridges. Additionally, when you rinse your filter cartridge inside of backwashing it, you can help reduce annual water usage. When you have a pool filter installed without a backwash valve, it can increase hydraulic efficiency, increasing your overall energy savings. We suggest that pool owners opt for filters that allow smaller pumps or lower pump speeds to minimize energy usage.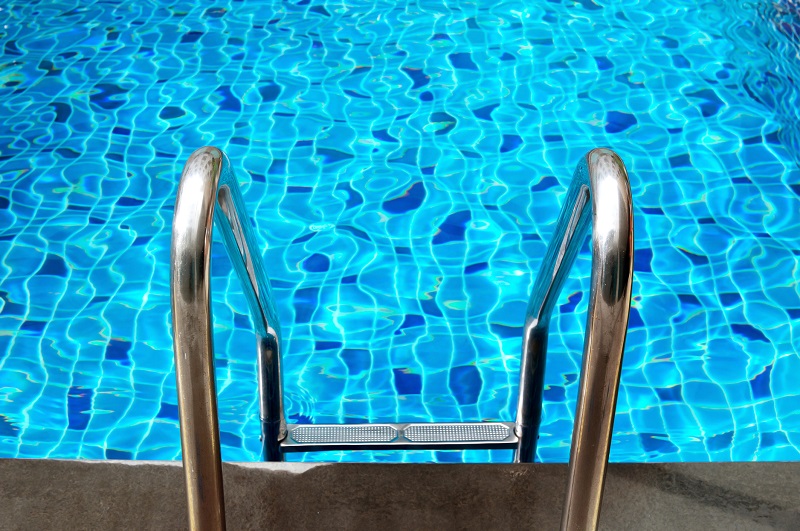 Ozone pool water systems are a great option for eco-friendly pools. They provide a more sustainable pool maintenance system than traditional pool water systems. Ozone sterilization systems use mineral purifiers and ozonators to increase pool clarity and water quality. Ozone, known as tri-atomic oxygen, is a potent compound capable of effectively oxidizing and sanitizing contaminants and pathogens. Ozone pool water systems can convert oxygen into bacteria-killing ozone by using electricity, reducing the need for further pool chemicals by more than 80 percent.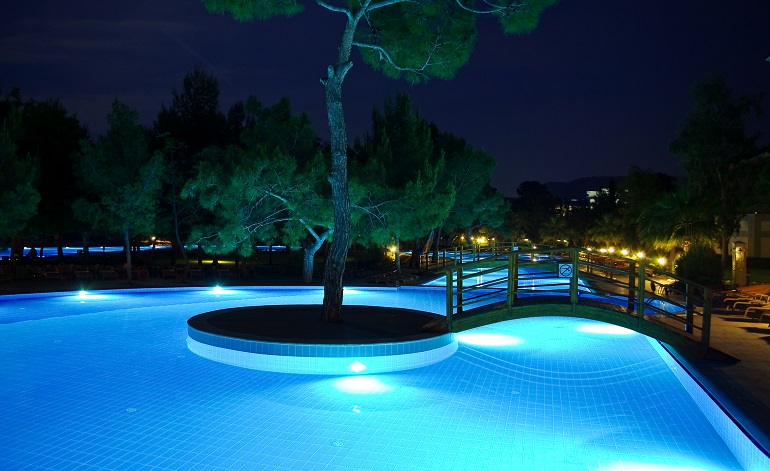 When it comes to lighting options for your residential or commercial pool, light-emitting diode (LED) pool lights are an energy-efficient option. They are also the most energy-efficient lighting options currently available, and they last longer than other lighting options. When installing LED lights for your pool, you can expect to worry and spend less. Not only do LED lights come in a wide variety of colors, but they can give your pool that upgraded look and feel. LED lights are energy-efficient, easy-to-use, and low maintenance. These lights are energy-efficient because they use as little as 42 watts, allowing up to 75 percent saving on energy usage. These lights are easy-to-use because they can be automated, which can be controlled using apps or remote control. These lights are low maintenance because they are made of diodes and last for a long time with little maintenance.
Pool automation is another great way to save on energy costs and ensure an eco-friendly pool. Pool automation can ensure your pool is more efficient and can effectively tackle tasks. These tasks can range from setting up and altering pool equipment schedules to account for usage changes and weather, and other factors that impact overall performance. When you take the time to ensure your pool equipment isn't accidentally left on for extended periods, it will help cut down on energy waste.
Controlling systems can help take advantage of off-peak, seasonable utility rates. These systems can help you manage multiple swimming pool functions from the comfort of your home. With a top-of-the-line controlling system, you can adjust specific pool equipment through the power of wearables or smart devices. This pool equipment might include your pool pump, pool heater, pool lights, or something else. The ease and efficiency that controlling systems can provide are undeniable.
Why Choose Tribal Waters Custom Pools & Spas?
Not only are we customer-focused, but we also offer a wide range of financing options to our valued customers. For over 10 years, we've served residents in the Phoenix Metropolitan Area. Not only do we create gorgeous pools and water landscapes that will turn your existing yard or patio into a place of fun and relaxation, but we offer various eco-friendly pool options that can benefit the environment while lowering your monthly energy bills. Whatever the size or shape of your residential or commercial pool, we have eco-friendly solutions that can elevate its efficiency. Our dedication to the complete satisfaction of our valued customers offers an unbeatable experience. Whatever your pool-related needs are, the professional team at Tribal Waters Custom Pools & Spas can help.
Contact Us Today To Learn How To Make Your Pool Eco-Friendly
At Tribal Waters Custom Pools & Spas, we offer a wide range of premier pool services and pool resources. For more than a decade, we have served the pool-related needs of the Phoenix Metropolitan Area. Check out our gallery of residential pool and spa designs, commercial pool and hardscape designs, and before and after pool remodels. Contact us today to learn more about what we can do to help ensure your residential or commercial pool is as eco-friendly as possible.