Skip to Content
Experienced Residential Pool Contractors
Custom Residential Swimming Pool Design in Phoenix, AZ
Summers in Arizona can be sweltering. If you could use a private oasis to escape the heat and humidity, Tribal Waters Custom Pools & Spas specializes in custom residential pool design in the Greater Phoenix Area. Our pool builders offer an unprecedented range of customization options, so you always get the pool of your dreams. While we have a showroom to view all the options available for the most popular residential swimming pool designs and styles, we also encourage you to take the reins and create your own custom pool design that fulfills your heart's deepest desires. Our swimming pool contractors will work with you to help you realize custom pool designs, even showing you 3D visuals before we get started. Your happiness and satisfaction are our priorities, and we've never left a customer dissatisfied with our pool construction. Contact us today to request a free residential pool design and installation estimate!
How Our Custom Residential Pool Design Process Works
Our residential pool builders in Phoenix can help you with in-ground swimming pool installation and more. We'll work closely with you throughout the process, from pool design to excavation, installation, and final inspection. Using state-of-the-art 3D technology, our pool designers can show you what your residential pool will look like before construction begins to ensure your satisfaction. From there, you can make any tweaks or changes you want. Have a look at our residential pool gallery for design inspiration.
Once you're satisfied with your custom pool design, we'll keep you up-to-date on the pool installation process throughout all phases of construction. Because we respect your time and home, we do all of our work promptly and professionally, adhering to the industry's highest safety standards. Our swimming pool contractors will help you create a luxurious custom pool design accommodating your unique style and budget. We also provide ongoing pool repair and renovation services to keep your pool looking as pristine as the day we installed it. Let us build the swimming pool of your dreams!
Add Character with Custom Hardscaping Design & Installation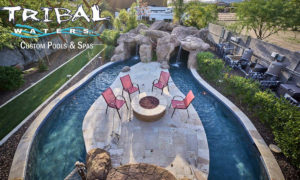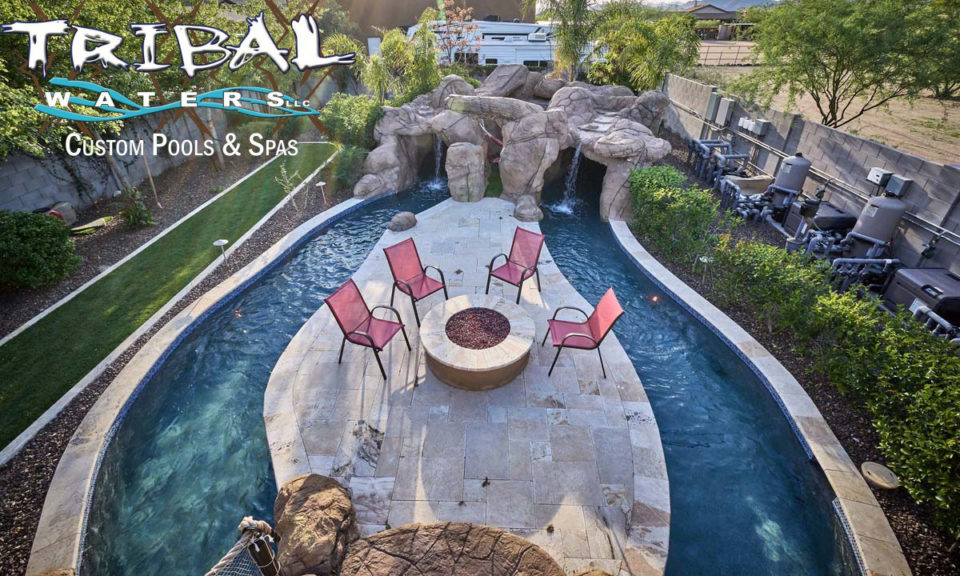 Our customization possibilities don't stop at swimming pool construction. Tribal Waters can help you enhance your new swimming pool design with custom hardscaping features that will make you the envy of your Phoenix, Chandler, or Scottsdale neighborhood. From new patio designs to stunning stonework and outdoor fireplaces, our custom pool builders can help you add character to your outdoor living spaces. Using various materials, our stonework encompasses everything from decorative rocks and retaining walls to gravel paths, walkways, and built-in barbecues and fire pits. Admire your new in-ground swimming pool from the comfort of your beautiful new backyard patio!
Give Your Pool a Makeover with Our Pool Remodeling Services
Do you already have a residential swimming pool in need of a makeover? Tribal Waters offers swimming pool remodeling and resurfacing services, no matter the age of your pool. Our residential pool builders can help you save on the expenses of building a new custom pool from scratch. Don't get stuck in the past with an outdated or lackluster swimming pool design. Let us enhance the features you already love about your swimming pool while adding new ones, such as diving boards, slides, or other accessories.
Relax & Reflect with Custom Water Feature Design & Installation
You'll be mesmerized by the custom water features we can design and install, including waterfalls, ponds, garden fountains, and bubbling rock. Water features add a serene quality to any backyard. Imagine curling up by a reflecting pool with your favorite book and beverage in hand. There's no substitute for the hours of relaxation and reflection these elements can provide you and your family.
Do you remember how much fun you had as a kid running through sprinklers to cool off during the summertime? Recapture that magic for your kids with a custom splash pad installation right in your backyard. Splash pads combine sprays, mists, waterfalls, and other unique water features.
Enhance Your Comfort with Custom Spa & Hot Tub Installation
Having a swimming pool and hot tub in your backyard is the ultimate luxury. If custom spa and hot tub design interests you, Tribal Waters would love to help. Our spas and hot tubs come in many materials, colors, sizes, shapes, and styles to complement the rest of your private oasis. Ask our knowledgeable spa and pool designers about the possibility of adding varied jets, digital controls, lights, and even headrests. Today's spas and hot tubs are designed with your comfort in mind at prices to suit any budget.
Custom Landscaping Features to Create Your Private Paradise
Once we build your swimming pool, why not rely on our expert designers to add custom landscaping features? Arizona has stunning exotic desert and tropical layouts not seen elsewhere, and your backyard needn't be an exception. Let us show you how incorporating unique flowers, trees, and shrubbery with your hardscape elements can create a one-of-a-kind backyard design.
Recapture the Magic of Youth: Custom Splash Pad Installation
Do you remember how much fun you had as a kid running through the sprinklers? Recapture that magic for your kids with a custom splash pad installation right in your backyard. Splash pads combine sprays, mists, waterfalls, and other unique water features to create something your entire family will adore.
Contact Our Swimming Pool Builders in Phoenix, AZ Today
If you're considering swimming pool construction in Scottsdale, Chandler, or the Greater Phoenix Area, give us a call to make your family's dreams come true. From simple, pre-made designs to extravagant custom pool designs, we've got plenty of options to stay within your budget. Memories are made in our residential swimming pools, so we construct them lovingly and with excellent craftsmanship. Adding a pool is a great way to increase your home's value and improve your family's health by keeping you all active year-round. Social gatherings will also be a breeze when you rely on our years of expertise to install your new swimming pool. Contact our residential pool builders to get started on your project!