Skip to Content
Residential Pool Contractor in Greater Phoenix
Custom Swimming Pool Design & Construction
Ah, summer in Arizona. The insects are buzzing, the shrubbery is growing, the heat is sweltering, and the sun is baking everything into a crisp. Need an escape? How about a pool?
At Tribal Waters Custom Pools in Phoenix, AZ, pools are the lifeblood of what we do. In Arizona, the summer heat can be extreme, and while the sunshine is nice, it's nicer to get out of the sweltering air and slip into a nice, cool pool of water. Tribal Waters Custom Pools sets itself apart because of the unprecedented range of customization options that we offer to our customers. As we like to say, if you can dream it, we can build it. While we have a showroom to display popular styles and designs, we encourage you to take the reins and make your own pool that fulfills your heart's deepest pool desires. We work with our customers to help them realize their custom pool designs, even showing them 3D visuals before we get started. Your happiness and satisfaction are our priorities and we've never left a customer unhappy.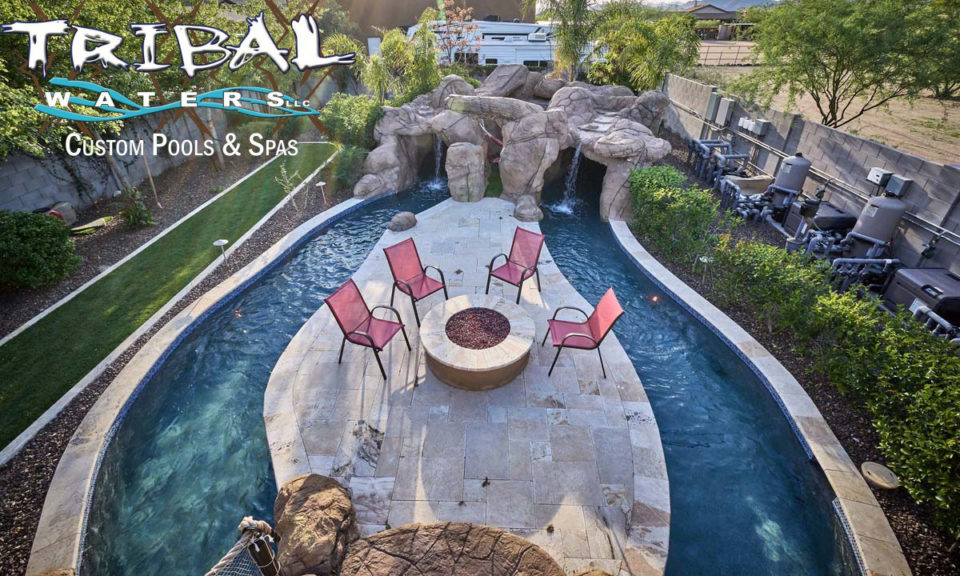 Residential Pools
Our residential pools are your family's dreams come true. From simple, pre-made designs that you'll love to extravagant masterpieces of human creation, we've got options for everyone to fall in love with while staying within their budget. We know that memories will be made in our pools, so we craft them all with the utmost care and highest dedication to excellence in the industry. Our high-quality work and customization options have made us an industry leader. We'll help you create custom pool designs that complement your existing backyard and landscape perfectly. Pools are great ways to increase a home's value, improve your health by staying active, make your yard more aesthetic, and add a new experience to social gatherings at your home.
Our design customization process
Our professional experts at Tribal Waters can help you execute the in-ground pool of your dreams. With a skilled staff of expert contractors and design consultants, we'll work with you closely throughout the process of your pool installation, from design and excavation to inspection. Our designers will help you solidify the idea for a custom pool that's exactly what you want. We use state-of-the-art 3D technology to allow you to see what your pool will look like before construction begins. From there, you can make any tweaks or changes that you want. Have a look at our residential pool gallery! Then, we'll keep you up to date with the installation process throughout all phases of construction. We'll do the final inspection together to make sure you're fully satisfied.
At Tribal Waters Custom Pools, we offer superior workmanship at affordable prices. Because we respect your time and home, all of our work is done promptly and professionally, adheringto the highest safety standards in the industry. We'll help you create a luxurious pool that will accommodate your unique style, as well as your budget.