Skip to Content
Custom Hardscape Design Contractors
Beautiful Backyard and Patio Designs
Is your backyard too simple, boring, or unaesthetic? Would you like to freshen it up a little to give the space some character? The addition of hardscaping features gives your yard and pool personality, refinement, and cohesiveness that complement any existing features and help bring the whole yard together. At Tribal Waters Custom Pools in Phoenix, AZ, we install high-quality, stunning hardscape like walkways and waterfalls to give your yard new life. From stonework to water features, we construct custom, top-tier elements that will last for years. Lend your yard whatever feel you're looking for, be it serenity, charming, fun, or relaxing. If you're looking for a team of expert workers and talented designers for your hardscape needs, you've found us.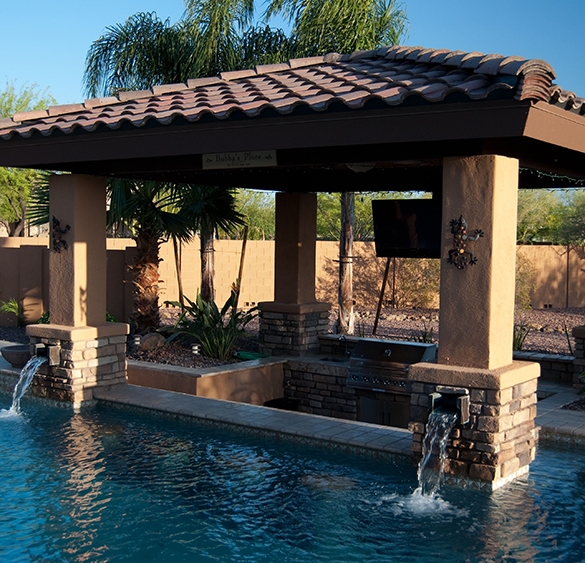 Stonework
Stonework is an essential part of hardscape that can involve a myriad of elements to spruce up your space. We stock a wide variety of materials in different styles for you to choose from. After working closely with our designers, you'll have a 3D view of your customized design before it's installed so you can make final tweaks and ensure it's something you'll love. We can craft and install any number of stonework hardscape aspects, including:
Walkways
Retaining walls
Decorative rocks
Patios
Gravel paths
Stone firepits
Built in bbq
This is just the tip of the iceberg of the different stonework aspects we can install in your yard. If you've got your own ideas, pitch them to us and we'll do everything we can to make them happen.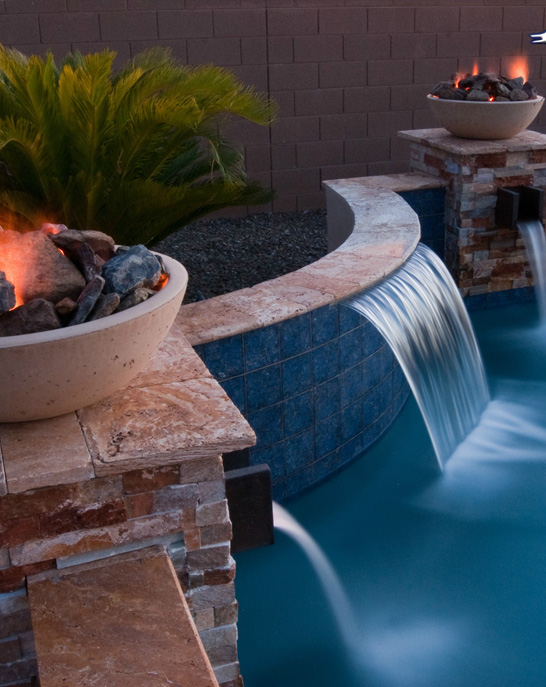 Water features
Whether they're built into your pool or they're positioned around your yard, water features are always attractive aspects of any yard. We can help you make a design that flows perfectly and will leave guests awed. They can be built into the sides of or around pools to accentuate them, or they can serve asstandalone centerpieces and accents to your backyard. From waterfalls to ponds, we give your yard a beautiful makeover, harnessing the power and appeal of one of the strongest forces in nature. Some of our most popular aquatic features that we've installed for customers include:
Waterfalls
Cascades
Ornamental pools
Reflecting pools
Ponds
Bubbling rock, retaining wall, column, and garden fountains
Streams
Pondless waterfalls
There are many different ways to get creative with these features and design something you'll fall in love with. When combined with proper stonework, a beautiful pool, and accentuating plant life, the use of water in your hardscaping can create something truly singular that will be unique to you. As with all of our services, we promise to deliver an exceptional experience to you. We ensure the job is done well, the process is worry-free, and your expectations are blown out of the water.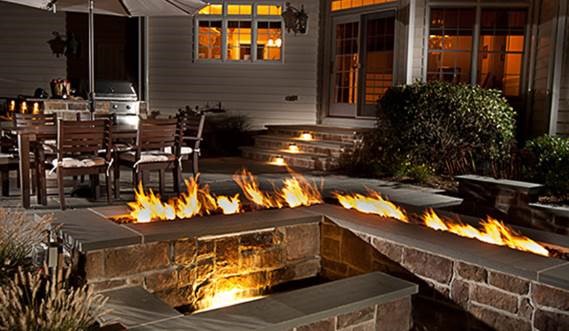 HPC Fire Inspired Products
When you choose HPC Products, you are choosing the most innovative and reliable products on the market. You will have peace of mind knowing that you are working with experts with 40 years in the industry.
Outdoor Fire Inspired Products
Indoor Fire Inspired Products
Custom Fire Features: glass, bowls and more
Commercial Products
Residential Products
Safe Gas Igniting Features
Fireplace Accessories
Repair Kits Available
Hands on customer service and training