Skip to Content
Tribal Waters Makes Commercial Splash Pad Installation Easy & Affordable
The splash pad craze has been sweeping the nation from coast to coast, showing no signs of slowing down any time soon. Many commercial communities, Apartments, municipal water parks, and resorts have discovered these safer, cost-effective alternatives to traditional swimming pools. Tribal Waters Custom Pools and Spas provides affordable commercial splash pad installation in the Greater Phoenix Area. We can install a splash pool in any commercial space that will make you the envy of the neighborhood. Reach out today and request a free custom quote.
Tips for Successfully Installing a Commercial Splash Pad
When it comes to splash pads, there's no one-size-fits-all pattern you must follow. These innovative projects can be fully customized according to your unique preferences, layout, and budget. Suitable for any space, a kids' splash pad is perfect for families with small children or pets. Follow these tips to ensure a successful splash pad installation on your Phoenix-area property:
Choosing Your Splash Pad Design – The first step to planning a splash pad installation is to design everything you want your splash pad to include to fit within the space you have. You have hundreds of custom water features available to choose from when designing your splash pad. Endless color combinations can also give your splash pool a fun, whimsical look to enchant kids of all ages and the young at heart. Materials you can choose from include colored concrete, pavers, aggregate, and more. We can work with any space and budget.
Choosing the Best Layout for Your Space – It's essential to measure your available space to get the best layout without it feeling too crowded. After all, kids and pets will want plenty of room to roam around while enjoying their new splash pool. Modern splash pads come in all shapes and sizes. We've designed and installed beautiful splash pads on campgrounds, recreational parks, playground areas, and more. We're happy to work with you. Every splash pad installation is a custom project with tailored features and equipment.
Choosing the Best Splash Pad Features – Does your dream splash pad include a cascading waterfall or a gentle mist for kids to run through on a hot summer day? Tribal Waters' designers can customize any splash pad features you desire. Our team would be happy to install fire hydrants, animals, trees, arches, mists, waterfalls, timers, and more to create your own private water park. If you dream it, we can do it. Let's start designing your one-of-a-kind commercial splash pad today!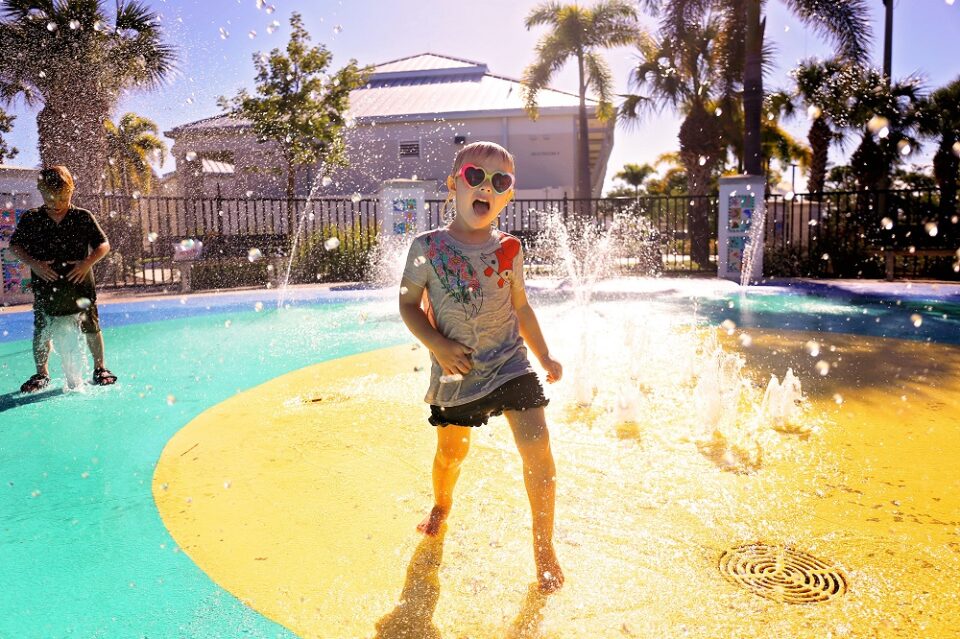 Things to Consider When Installing a Splash Pad
Our designers are here to make expert recommendations that won't break the bank during your splash pad installation. If safety is your chief concern, consider asking for a non-slip surface with pavers, rubber, or textured concrete to minimize the risk of slip-and-fall injuries. If you have a sprinkler system or septic tank on your property, we'll help you determine the ideal layout that won't disrupt your water flow. Permits may be required to build a splash pad. Not to worry. Our team will help you figure out everything before beginning any excavation work. You may view our splash pad frequently asked questions for additional insights when making the decision to install a backyard splash pad this year.
Why Choose Tribal Waters Custom Pools and Spas?
At Tribal Waters Custom Pools and Spas, we take pride in designing and installing custom pools, spas, splash pads, and more that meet or exceed our customers' expectations. Our products and services bring comfort, luxury, beauty, and memories that will last a lifetime. We make it easy to transform your space into a dream landscape with aquatic features that add value to any property. Using innovative 3D technology, we can show you how these features will look before we install them to ensure your total satisfaction. In addition to new installations, we also specialize in extensive pool remodels to breathe new life into any space. Check out our gallery for your next project inspiration.
Contact Us to Learn More About Financing a Splash Pool
Are you interested in learning more about splash pad installation in the Greater Phoenix Area? Tribal Waters would love to hear from you. We serve commercial customers in Chandler, Mesa, Gilbert, Maricopa, Glendale, Scottsdale, and many surrounding communities. Our team strives to keep our installation costs as competitive as possible to make them affordable for the average family. If splash pad installation costs are a concern, be sure to ask about our third-party financing options available through A&A Pool Financing, Credit Union West, and Lyon Financial. Contact us today!