Skip to Content
Pool Landscaping Ideas in Phoenix, AZ
Tribal Waters Custom Pools & Spas offers you a wide range of luxurious styles, options, concepts, and pool landscape ideas for your Phoenix, AZ home. The choices for elevating inground swimming pools are as varied as your aesthetic preferences. That's why we're here to consult your backyard pool designs and landscaping ideas to give you your desired style and functionality. Our team provides guidance on the critical components of a quality pool space, including lighting, planting, and beyond. Our mission is to make the decision-making process as easy as possible, so you can spend less time building and more time enjoying the custom swimming pool area you've always wanted.
How Do I Prepare My Pool Landscaping?
If you endure the sweltering hot days of summer like the rest of us, you probably dream of having a refreshing outdoor oasis complete with a pool. If you already have a pool, you've most likely dreamt of ways to beautify it and create a stunning outdoor space uniquely you. Unfortunately, many homeowners believe that the time, money, and energy invested in making their outdoor dreams a reality isn't worth it. We want to dispel the myth that cultivating an outdoor oasis is difficult. A pool space for your friends, family, and guests can be easy to maintain if you are savvy with your resources and put forth a little effort and creativity. But first, you must prepare the pool area. Here's how:
Clean Your Pool Deck: Ensure all dirt and debris are removed from the pool deck area.
Clean Your Lawn: If needed, mow your lawn and rake it to clear dead leaves and wild vegetation.
Remove Unwanted Plants: This includes pulling weeds and other nuisances from your potted flowers, gardens, grass, and other greenery.
Eliminate Dead Plants: It's best to rid your property of plants that have reached the end of their lifespan and cannot be recovered.
Declutter Your Outdoor Spaces: In short, remove all junk. Reducing waste is the best way to open your pool space and imagination to new aesthetic possibilities.
What Elements Elevate the Landscape Around Pool?
One of the best parts about giving your pool area a terrific landscaping job is that you can use almost any material at your disposal. You can use any material to make the outdoor space of your dreams as long as it meets your needs. With enough creativity and strategy, you can manipulate your pool area's lighting, greenery, and built-in features to cultivate your desired ambiance and aesthetic. The professionals at Tribal Waters Custom Pools & Spas help homeowners envision a better pool space daily. Here are some elements we encourage you to consider when brainstorming ideas for your new and improved pool area.
Brilliant Lighting
Add a shimmer or shine to your daily pool activities or light up the night for your next outdoor gathering with lighting for your backyard pool designs. There are endless ways to get creative with light. Install LED lights within the pool that give the water a mysterious glow, or string up lights around your property and features. Do you prefer a more natural look? We recommend you consider installing a firepit for a rustic experience and a campfire-style setting. Lighting systems can be installed anywhere around your space, including inside the pool, garden, and fixtures and features.
Lush Plants
You're in luck if you already have vibrant, flowing, lush greenery growing on your property. Cut, trim or let grow the greenery areas that suit the ideas for your custom swimming pool. If you prefer a wild look, then let your grass and plant flow freely with wild abandon. If you want order and structure, consider potted plants and well-maintained gardens that give your space a beautiful appearance while remaining under control. There are many shrubs, trees, grasses, and other plants you can install to green up your pool area, including:
Palm Trees
Aloe Vera
Bamboo
Arborvitae
Spruces
Agave plants
Versatile Walls
One of the prime advantages of walls is that they are already there. You don't necessarily need to spend time and money putting in a new fence or wall because you can expand what's possible with your existing one. Homeowners can play with open or closed wall spaces and produce their preferred privacy. Walls can be built in and around the pool from a wide range of materials, including stone and granite. Fill the wall levels with gardening and planting. Are you a person who prefers privacy? How about a free-flowing area where the wall's presence is minimal? Regardless of your preferences, our team can give your space the depth and dimension you need.
Durable Decking
Your decking and walkways are among the essential components of your pool area because they must be safe above all else. While thinking of the materials you want for your decks, we encourage you also to consider security. As much as you'd like a beautiful patio and walkway area, you need to consider their hazard levels so your friends and family don't slip or fall while enjoying a day at the pool. For example, pebble-dashed floors aren't slip-proof but are much more resistant than stone slabs and traditional paving. Consider safety and aesthetics while dreaming up your new pool area.
Quality Hardscaping
What's the difference between landscaping and hardscaping? Hardscaping is a sub-category of landscaping that refers to rough, non-living components. Its sister category, softscaping, includes living elements such as plants, flowers, and greenery. A hardscape can consist of anything non-living, like patios, walls, decking, furniture, and more. Your custom pool may be the centerpiece of your outdoor space, but your hardscaping and softscaping work will tie it together with depth and character. Hiring professionals for your hardscaping ensures you receive quality work that brings your dreams to life. We can offer hardscaping and landscaping design to complement your pool work.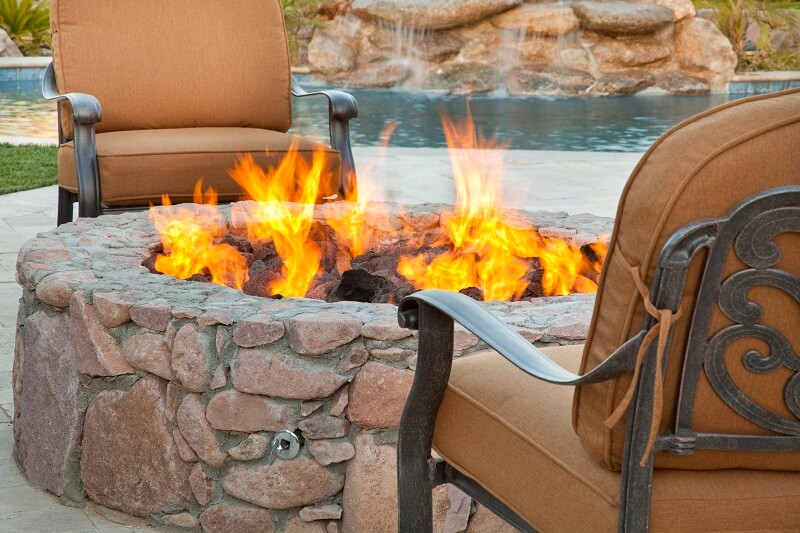 Perfect Backyard Pool Landscaping Ideas for Homeowners
The possibilities abound. Now that you've finally considered the crucial components of quality swimming pool design, it's time to consider the actual designs. There is indeed a design for every homeowner, regardless of their style preferences. From stark, clean concepts to wild and abundant greenery, the design capabilities will give you the pool space you've always dreamt of and make your backyard the envy of the neighborhood. Our team can consult with you on various design concepts, ranging from modern, traditional, and beyond. Are you interested in discovering the perfect backyard pool space for you? Read more to learn more about the hottest design concepts out there.
Relax the Night Away with Firepit Lighting
Add a little fire to your water. Firepits are the perfect source of memory-making and reliving old, cherished memories. Nothing brings to life memories of outdoor excursions, simmering hotdogs and marshmallows, and swapping stories between friends and family more than the scent and glow of a fire. Give your backyard space a campfire ambiance with modern convenience by installing a fire pit in your pool area. Propane fire pits are easy to install and provide endless relaxation and entertainment. Please get in touch with us to learn more about firepit pricing and what products will best fit your budget.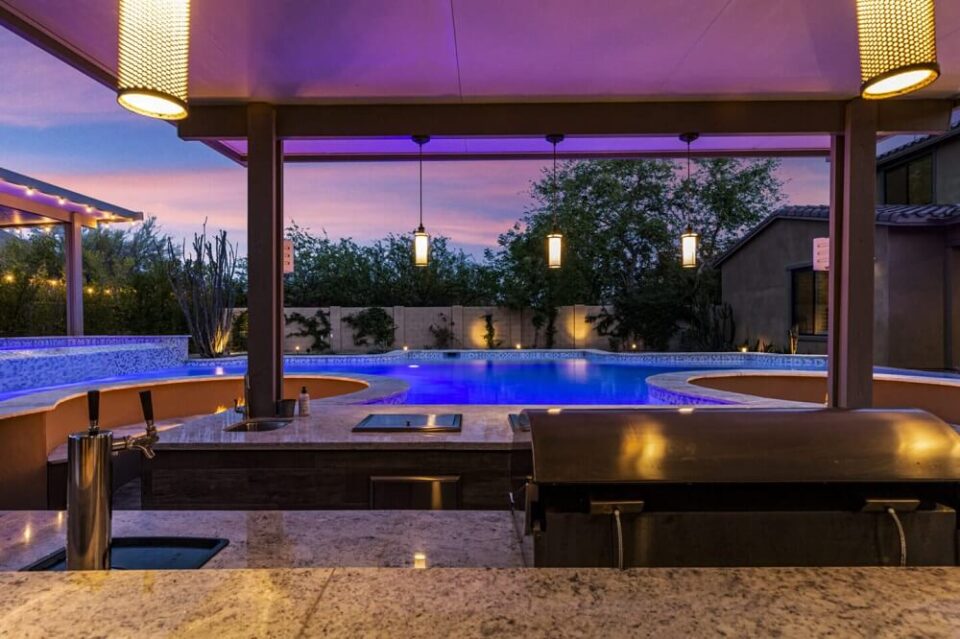 Modern Aesthetics for Your Inner Minimalist
Clean. Clear. Versatile. Modern aesthetics allow your pool area to breathe with an elegant style without drawing attention away from the most crucial component: the pool. The characteristics of a minimalist pool include clear lines, low-key decking and furniture work, and careful, controlled plant manicuring. Every design element in a minimalist concept looks intentional, making it the perfect choice for the planners in your life. Minimalist concepts are naturally clean and require less upkeep than those with more grass and wildlife. You can enjoy the elegant beauty of a clean-looking customized pool with little maintenance work needed to keep it functional and in optimal condition.
Drink Up at An Outdoor Bar Installation
There's nothing quite like a cool, refreshing drink to elevate your day at the pool. As temperatures rise and the heat begins to beat down more intensely, you may find yourself thirsting for a delicious concoction. If you don't currently have a pool but are planning to make one, a swim-up bar can often be included in the design plans. We encourage you to consider adding a space for a grill to go with your existing bar to host your friends and families in style. Swim-up bars and add-ons are relatively easy to install and will quickly become where your guests hang out most. Now, all you need are the drink recipes!
Add Life with Jungle and Tropical Plants
Why book a vacation to a tropical paradise when you can create one in your backyard? Planting a wide range of lush, colorful plants native to destinations worldwide will make you feel like you are in another place every time you step outside. We recommend installing a diverse array of plants around one side of your pool to give it a tropical shade without sacrificing the sunlight. Waterfall features heighten the tropical feeling and imbue your outdoor paradise with flowing water. Whether you prefer the wild or the comfort and amenities of a resort, a tropical- or jungle-themed design can deliver. This concept will make you feel like you are on permanent vacation! Contact Tribal Waters to get started on your landscape designs.