Skip to Content
Which Pool Finish Is Right for My Phoenix Swimming Pool
Your pool's interior finish can take its design to a whole new level of elegance and flair. There are all types of options to finish your pool, including plaster, tile, and aggregate. Additionally, each finish comes in a variety of materials, colors, and textures to fit your design and functionality needs. At Tribal Waters Custom Pools & Spas, we provide all types of pool finishes to create a truly unique look for your pool that will hold up to the test of time.
Choose a finish that compliments the design style of your pool, whether you're building a new in-ground pool or starting a pool renovation project. Check out the many pool finish options below to see which one is right for you. When you're ready, reach out to our expert team. We'll help you select a pool finish that fits your needs and get to work installing it. Before you know it, you'll have a beautiful newly-designed pool.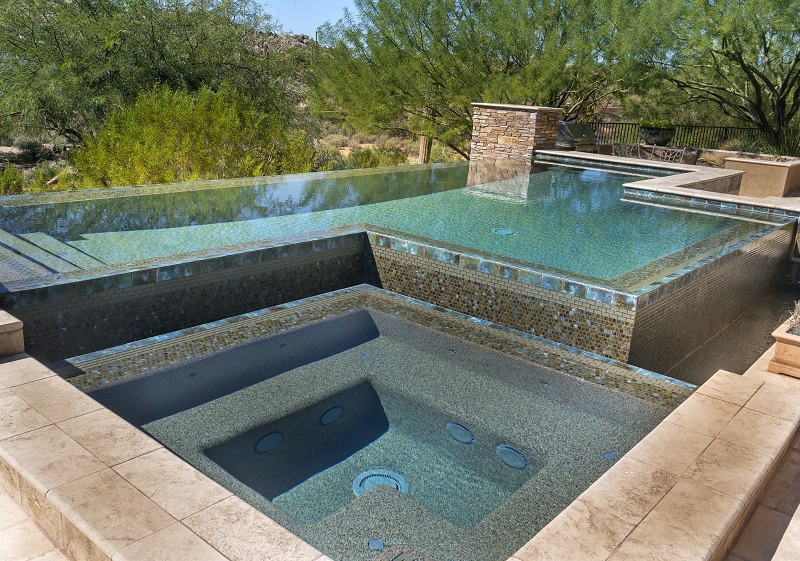 The Importance of Choosing the Right Finish
Choosing the right finish for your pool isn't just about how it will look. The correct finish will also help protect your investment. Concrete and gunite pools must be properly sealed and maintained due to their porous nature and continual exposure to sunshine, water, chemicals, and natural wear and tear. Proper pool finish helps you eliminate water leakage, increases its lifespan, decreases the number of repairs, and determines how it will look. Additionally, different pool finishes have different pros and cons. We'll go over the most popular options to help you decide. If you need any help, don't hesitate to reach out to our team of seasons pool experts.
Plaster Finishes
Plaster finishes are the earliest technique of pool finishing, dating back to the 1960s. They're made of a combination of white cement and crushed marble, and they're troweled by hand for a smooth surface. They are also the most affordable option available. If you're looking for a classic look for your pool, plaster is the best finish. However, plaster-finished pools lack long lifespans and require more in-depth maintenance to stay functional and attractive.
If your plaster is the standard white, gray, or another light color, scaling, stains, and regular wear can show more prominently than other finishes. Darker plaster finishes will hide these blemishes more but will still show them over time.
At Tribal Waters Custom Pools & Spas, we provide standard and colored plaster options for budget-friendly pool remodels and installations.
Aggregate Finishes
Aggregate finishes are a bit of an upgrade from traditional plaster. We create aggregate finish using a mixture of cement-based, pigmented plaster combined with pebbles, stones, and crystals. This creates a natural-looking and organic finish with great longevity.
We apply aggregate finish by hand with either a polished, shined, or power-washed surface, depending on the look you want. Aggregate can include all types of options to influence the final product, including:
Quartz
Marble
Pebble
Glass Beads
Aggregate finishes have a slightly coarse texture that's safe to touch and provides a natural non-slip surface. Additionally, the non-porous finish is chemical, algae, and stain-resistant, allowing it to keep its natural beauty for years with minimal maintenance and cleaning.
We provide all different types of aggregate finishes, including:
Quartz
Marble
Pebble
Glass
Tile Finishes
Tile finishes in pools provide an elegant beauty unmatched by other finishes. Unlike traditional poured finishes, tiles are carefully hand-placed. This meticulous personal touch creates an amazingly beautiful end product. The tiles themselves will almost never need replacing. However, they require additional maintenance to stay free of chips and other damages.
Tiles come in a wide range of sizes and colors, allowing us to create a unique mosaic in your pool. You can also use tile finishes as accent pieces for your standard finishes, like around the waterline, the exterior of your hot tub, or around a bar ledge.
There are three different types of tiles:
Ceramic/Porcelain
Stone
Glass
Contact Us Today
There are nearly unlimited options to finish your Phoenix pool. Allow the team at Tribal Waters Custom Pools & Spas to help. Our experts have years of experience helping pool owners find the best finish that fits their needs, aesthetics, and budgets. From entry-level plaster to luxurious glass tile, we have it all. Each finish has its own advantages and disadvantages. Contact us today to schedule your consultation for your pool finish in Phoenix, AZ.