Skip to Content
Custom Pool and Landscape Design
Custom Pool Landscape Design in Phoenix, AZ
Tribal Waters Custom Pools and Spas offer custom landscape design services to our Phoenix, AZ customers. We can pair custom landscaping services with our many pool remodeling, resurfacing, and redesigning packages. We understand that every backyard and pool area is unique, so we tailor our approach to each home. Our pool landscaping goes beyond simple trees and flowers to include hardscaping, firepits, water features, outdoor kitchens and bars, pergolas, patios, waterfalls, and more. Contact us today to revitalize your pool with our custom landscaping services paired with our pool designs and remodels.
Backyard Pool Designs With Additional Features
The options for backyard pool designs are almost endless. Redesigning your landscaping includes installing grass and greenery while leaving a wide selection of additional features. Some of the aspects we can add to your yard to enhance its beauty include:
Pergolas and ramadas
Fireplaces and fire pits
Outdoor bars and kitchens
Customized lighting systems
Putting greens and artificial lawns
Waterfalls
Desert gardens
Water features such as ponds and fountains
Paver patios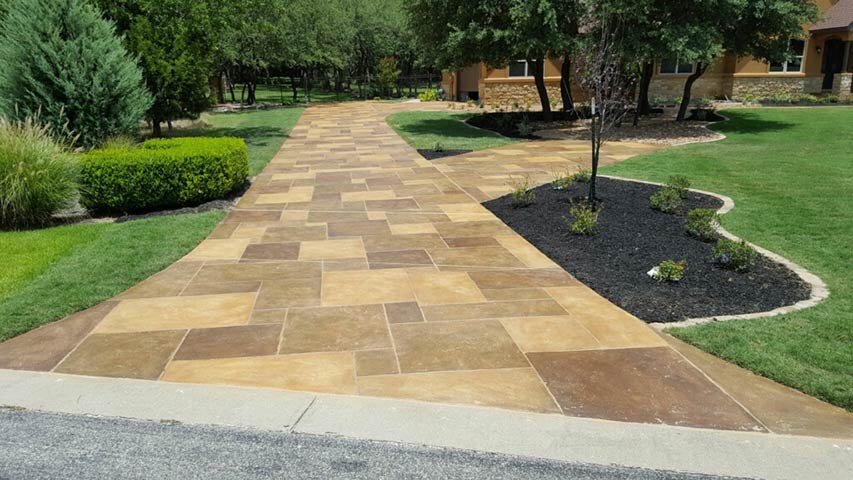 Custom Landscape & Pool Installation Ideas
Our design team works with you on our 3D software to help bring your dreams to life. Some of our most popular custom landscape and pool installation ideas include:
Low Maintenance Oasis –Since Arizona is a dry and hot environment, opting for a variety of desert plants in a rustic and Mediterranean-style courtyard provides an inviting atmosphere.
Paver Pathway – We can create a gorgeous and functional stone path that surrounds the pool for easy navigation.
Desert Vegetation – We can use lovely desert trees, lavender, and cacti to bring life and beauty to your backyard oasis.
Tropical Features – While tropical features are a bit more challenging to maintain in the Arizona climate, we can include palm trees, deep green turf, and red-tipped photinias.
Waterfalls – Our team can transform an everyday swimming pool into a resort-like pool with a stunning waterfall.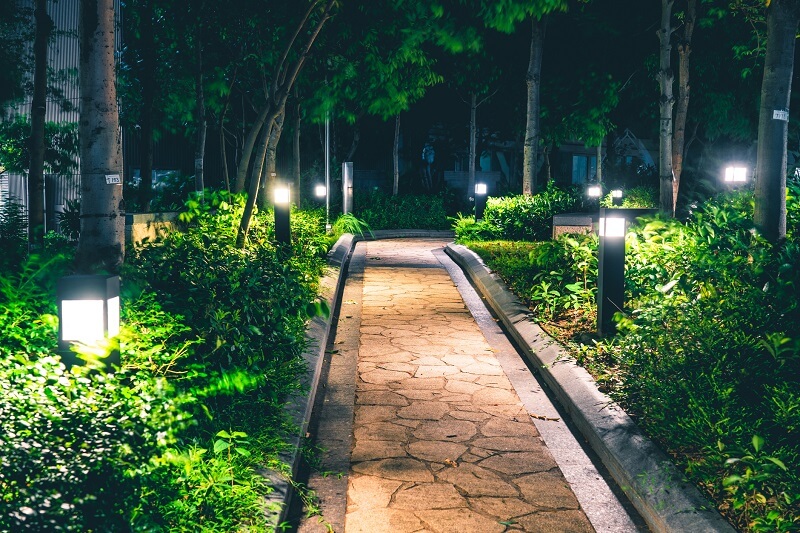 Transform Your Backyard With Landscape Lighting
Landscape lighting brings your backyard and its feature to life with light. You can brighten your walkways for entertaining guests and hang lights for a romantic feel. Landscape lighting is a perfect way to maximize your favorite features in your backyard. We'll help you choose the best types of landscape lighting to transform your backyard into a magical place.
Why Choose Tribal Waters for Landscaping?
Tribal Waters is proud to be your local expert for inground pools in the Phoenix area. Our landscaping design and installation services are a small part of what makes us your premier swimming pool and landscaping company. We'll work with you to install the proper types of vegetation and plant life in your home to ensure it looks beautiful all year. Whether you're looking for a minimal design or want to stand out and be bold, it all starts with a phone call. We're proud to include all types of landscaping packages with our other pool redesign and remodel services.
Contact Tribal Waters Today!
Tribal Waters Custom Pools and Spas blend form and function during our remodels and landscaping services. We use our in-house design and construction teams to stand beside you every step of the way. Our team will put together a flowing, beautiful escape right in the comfort of your own backyard. Contact us today for a free quote!