Skip to Content
How Long Does It Take to Build A Swimming Pool?
Custom Pools Installation Timeline in Phoenix
There are numerous factors that determine how long it takes to build a swimming pool. The pool contractors here at Tribal Waters Custom Pools & Spas is always upfront and transparent with customers as to how long their pool's construction will take. We have been building custom pools in Phoenix & surrounding areas for over 10 years and we offer a full consultation to get a clear idea of the timeframe. During this consultation, we will get a handle on the materials and features you want and will be able to give you a specific timeline for completion. We know you want to be able to enjoy your new pool as soon as possible and that's why we work hard during design and construction. We have all the tools, equipment, and personnel we need to get the job done in-house, saving you both time and money. That's why we are the leading choice for custom pool and spa construction in Phoenix & surrounding areas.
Pool Construction Duration and Contributing Factors
So how long does it take to build a pool? There are a lot of factors that can shorten or lengthen the general timeline, including:
Weather/Time of Year – In Phoenix, we usually don't have to worry about rain. But inclement, cold, or cloudy weather can delay drying concrete, which may hold up the subsequent construction steps.
Permits – In order to excavate to install an inground pool, permits need to be pulled. Usually, the process is quick. But sometimes communication errors or special property circumstances can extend the permit process.
Pool Features – Simple pools with a basic DE filter and lighting usually take less time to build. However, if you want waterfalls, custom lighting, a solar heating system, jets, bubblers, a custom landscape to surround your new pool, or another custom feature, you're likely looking at a lengthier project.
Utility Complications – A hole must be excavated in your backyard to build a pool, but sometimes, there are underground utility lines that are in the way of excavation. If there are lines in the way, they need to be re-routed and altered, which can add to the total construction timeline.
Pool Size – The size and scope of the pool will have a major impact on how long excavation, plumbing, landscaping, and construction take.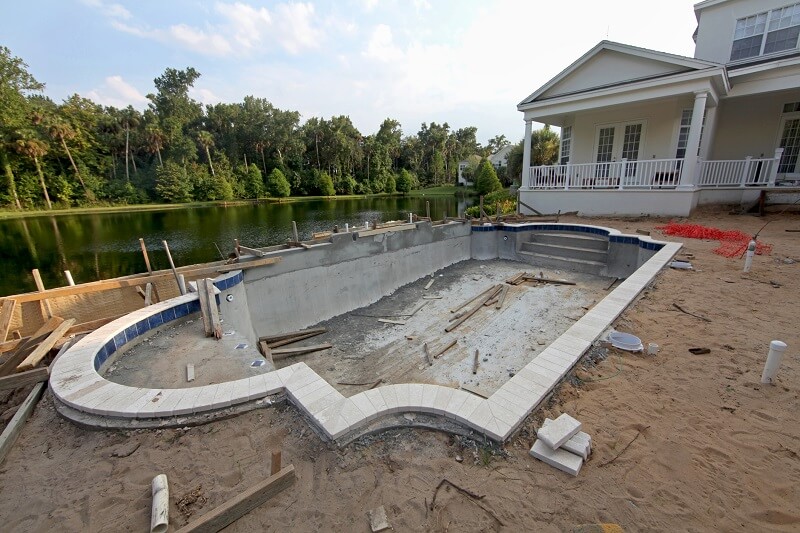 The pool construction timeline can be broken down like this:
Design
Permit-pulling
Excavation
Plumbing and electrical work
Pool shell installation
Decking and landscaping
Inspection and starting up the filter
Your Phoenix Custom Pool Contractors
No matter what the size or scope of your pool may be, you can always count on the swimming pool contractors at Tribal Waters Custom Pools & Spas. We respect our customers and their properties. Plus, we have an expansive team of technicians and installers to ensure that even large commercial pool installation jobs are done in less time than it takes other pool contractors. When you want the job done quickly and professionally, you can contact our Phoenix pool contractors!