Skip to Content
Unleash the Fun with a Custom Splash Pool
Are you looking for a unique way for your family to beat the dry desert heat this summer? Splash pools are the latest trend in family fun, representing a clever upgrade on the concept of playing in a sprinkler. You can combine various water elements in your custom splash pad design, including sprays, mists, and waterfalls, with colorful, creative items such as sprinkler trees, animal jets, and twisty pieces that spray water in every direction. As your local experts in splash pad installation in Phoenix, AZ, Tribal Waters Custom Pools and Spas would be happy to create something special your entire family can enjoy, from the kids to the dog and even the adults. Reach out today to request a free estimate from our team!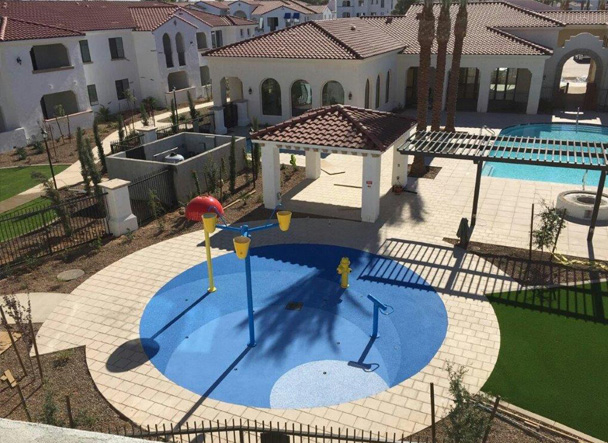 Commercial Splash Pad Installation Experts
Whether you're a resort owner or you want to provide a safe water feature for your community, Tribal Waters provides commercial splash pad installation in the Greater Phoenix Area. Featuring little-to-no standing water and a non-slip surface, they're a safe, refreshing water feature for kids and pets of all ages. When it comes to water and children, safety is of the utmost importance. Splash pools are a safer alternative to swimming pools with a much lower risk of drowning or water inhalation. Splash pools are a great addition to any space, including hotels and resorts, municipal water parks, apartment complexes, childcare centers, senior living communities, or community pools and spas. You can design a splash pad appropriate for your needs and budget with help from our experienced team.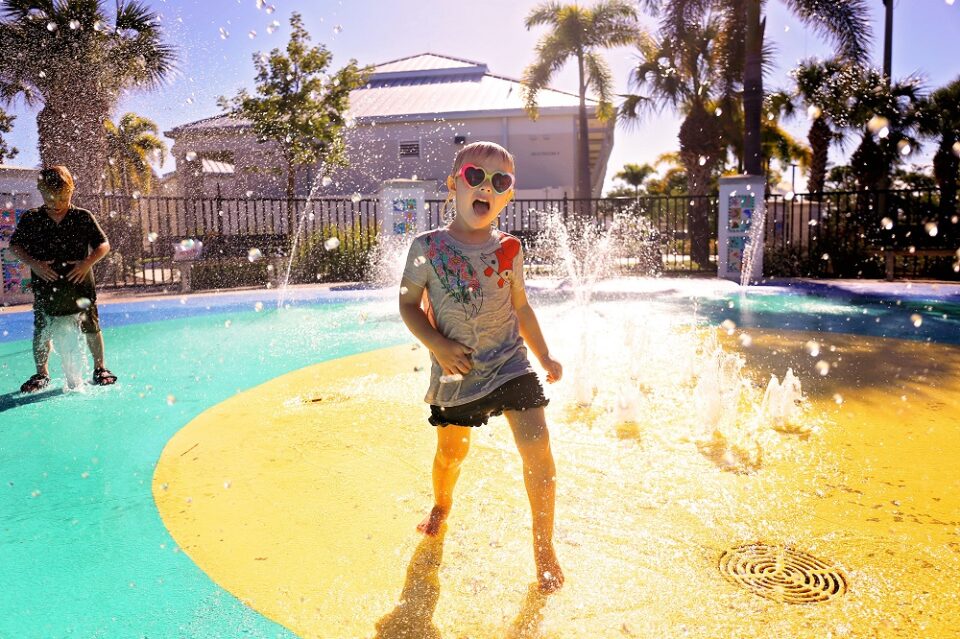 Hundreds of Splash Pad Custom Features Available
Tribal Waters strives to give our customers exactly what they want with fully customizable designs and options. Our splash pools have hundreds of custom features you can choose from, allowing you to design the best layout for your space. You'll have the freedom to choose from such innovative features as arches, hoops, trees, fire hydrants, animals, towers, and more. Each piece offers a different type of play and water sensation, from gentle mists to cascading waterfalls to refresh you as you run through them. We love designing custom splash pads, and we're excited to see where your imagination and creative ideas will take you!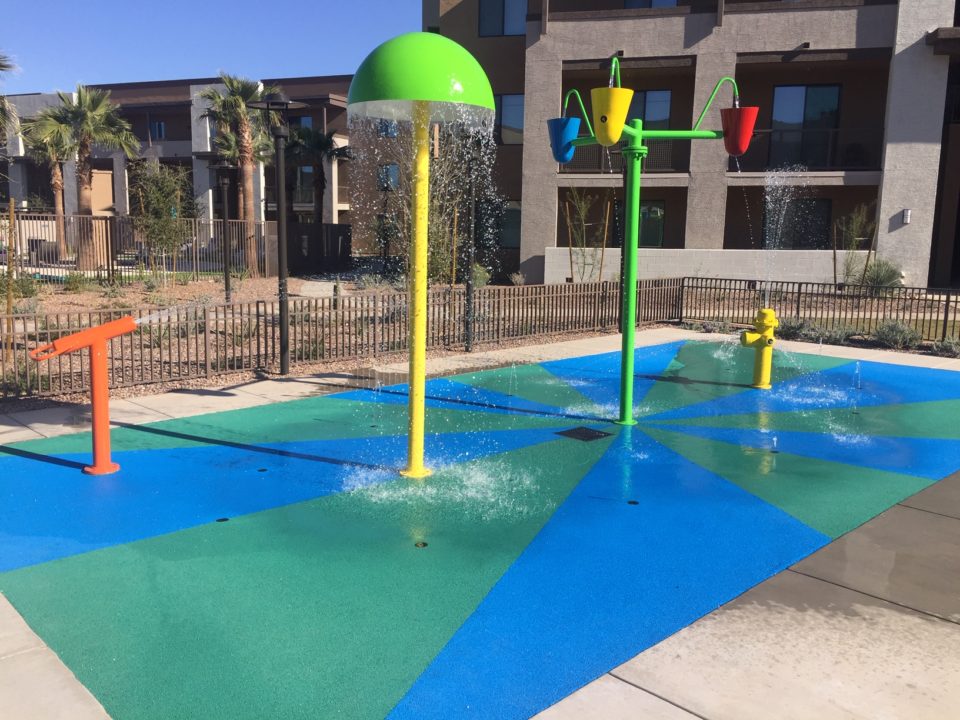 Custom Splash Pad Benefits You Cannot Afford to Ignore
Kids' splash pads are growing in popularity for several valid reasons. While you should always supervise children around water, splash pads present a safer alternative to swimming pools. They're ideal for families with younger children who can't swim or who may be afraid of water. They're also typically less expensive to install than a swimming pool. Splash pads also require less ongoing maintenance, which is excellent news for commercial use.
How Do Splash Pads Work?
Splash pads circulate water from an underground storage tank to a play surface via a pump. The tank is customized according to the size of your splash pad and the unique water features you select. Since the water is recirculated similar to a swimming pool, investing in a pump and filter combo is in your best interest to ensure more sanitary water, free of algae, bacteria, and other contaminants. Water is distributed to your play surface area via irrigation control valves similar to those found on lawn sprinkler systems. These valves make different water flows, pressures, and even fountain effects possible. We have entry-level splash pad kits, with many fun add-ons available to create your own private water park. Browse our splash pad frequently asked questions to learn more about these innovative water features.
Get a Free Splash Pad Quote in the Greater Phoenix Area
At Tribal Waters, we use only the highest-quality products to ensure your safety and satisfaction. Splash pads are a great, cost-effective option to bring the fun of a water park to your community or hotel. Your investment will be worth the laughter, smiles, and memories you build with your family or guests. If you're interested in exploring the benefits and costs of a commercial splash pad installation in Phoenix, Maricopa, Chandler, Scottsdale, Gilbert, Mesa, or a surrounding area, contact us to request a free custom quote. Be sure to check out our gallery and ask us about our third-party financing options!