Skip to Content
Custom Spas & Hot Tub Design
Luxury Spa and Hot Tub Design and Installation
Enjoy the luxury and comfort that only an in-ground hot tub can bring when you contact the pool and spa experts at Tribal Waters Custom Pools and Spas. Our acrylic swim spa specialists in Phoenix, AZ offer unparalleled custom pool, spa, and hot tub designs you'll love. We have a variety of materials, colors, sizes, shapes, and styles to choose from, and we can incorporate any design element or water feature you'd like. Whether you want a modern outdoor jacuzzi or a tropical pool and spa oasis, we can transform your backyard vision into a reality. Our construction crew is fully licensed and insured, and we have an expert eye for detail. Reach out today to schedule a no-obligation hot tub consultation.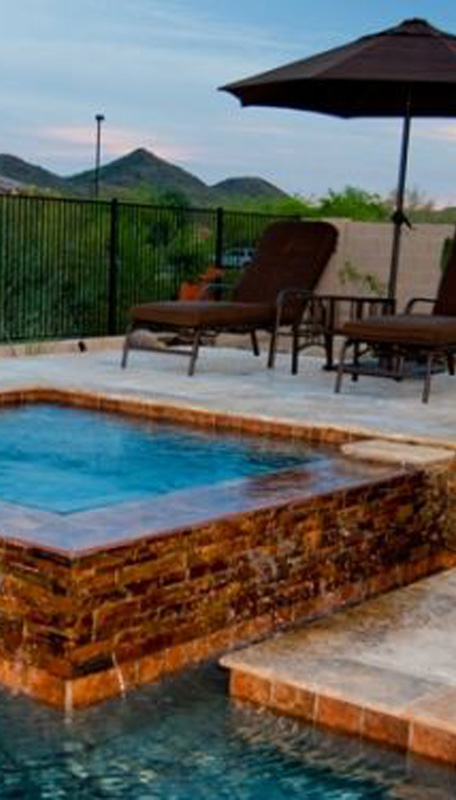 The Benefits of Our Custom Spas & Hot Tubs
Our custom-built spas and hot tubs can provide you with a relaxing soaking experience that's on par with luxury resort amenities. We offer a wide range of hot tub features that can be customized to fit your needs for a very reasonable price. As a leading hot tub and spa contractor in Maricopa County, we provide luxury options that include the following benefits:
Varied Appearance – We offer acrylic spas that can be customized to feature a range of colors, patterns, and materials, including wood paneling.
Comfort – Whereas wooden hot tubs don't offer much comfortable seating, our spas offer luxury in their design with cozy bucket seats, lounges, and headrests to provide comfort.
Amenities – Our spas and hot tubs come with varied spa jets, abundant seating, digital controls, and lights to help set the mood. Some even offer audio features, including iPod connectivity.
Simple Maintenance – Our spas are low-maintenance with regular cleaning and will last for decades.
Energy-Efficiency – Our hot tubs are more insulated and energy-efficient than wooden or portable models, saving you money both in and out of the water.
Durability – Our spas and hot tubs are made from the finest acrylic materials that can withstand decades of use, weathering, and UV exposure.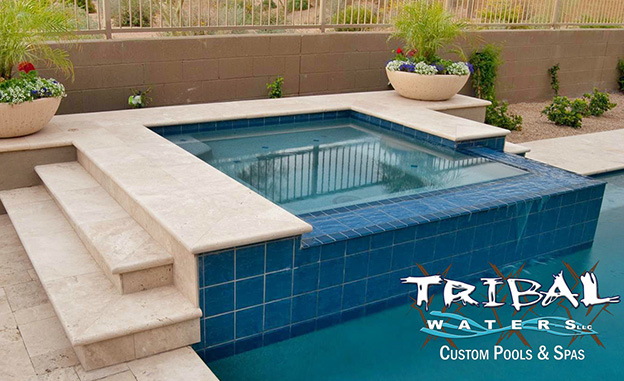 Endless Acrylic Spa Design Ideas to Ensure Your Satisfaction
Tribal Waters' acrylic spa designs are as versatile as our customers. Modern hot tubs can be round, square, rectangular, or even heart-shaped if you desire. When designing your perfect outdoor jacuzzi, we'll take measurements of your yard and ask about your preferences. Depending on how often you plan to use it and how many guests you want it to accommodate at a time, we'll come up with the best layout for your lifestyle and budget. If you're interested in incorporating a pool and spa combination in your backyard, there are many ways to do so that allow you to enjoy the best of both features. View our gallery to get inspired by the endless design possibilities.
What Are the Advantages of Installing a Spa or Hot Tub?
If you're on the fence about installing a custom spa or hot tub, take a look at these amazing benefits:
Property Value – Adding a spa or hot tub to your backyard can help you increase your curb appeal, as this is a desirable selling point among many buyers. Hot tubs bring people together, making them desirable to families and couples who love to entertain.
Stress Relief – Soaking in a hot tub can be an excellent way to reduce stress. You'll feel your worries and anxieties melting away, as you relieve the tension in your shoulders, neck, hips, and other stress points. Spa jets help stimulate endorphins to make your body feel relaxed.
Better Sleep – Many people who soak in a hot tub before going to bed report getting a better night's sleep as a result. Being in a hot tub helps relax your body and mind.
Pamper Yourself – Many people don't take enough time to pamper themselves. "Me time" allows you to rejuvenate, so that you can function at your best. What better way is there to relax than soaking in a hot tub with your favorite music or book and maybe a glass of wine or tea?
Faster Recovery – If your body has a lot of aches and pains, sitting in a hot tub can help alleviate muscle tension. Physiotherapists worldwide have tapped into the healing benefits of hydrotherapy for patients with painful joints, sore muscles, or mobility issues. The hot water and massaging spa jets can also help you recover from an injury faster.
Are you wondering what the difference is between a spa and a hot tub? Check out our frequently asked questions section for this answer and several others as you explore your options at Tribal Waters.
Customize Your Heavenly Spa Experience With a Free Quote
Get the most out of your relaxation time and enjoy the true comfort that only comes from a luxury spa or hot tub from Tribal Waters Custom Pools and Spas. You're choosing excellent craftsmanship and full customization possibilities to ensure your complete satisfaction. We believe exceptional customer service is as important as the products and services we sell, so we'll consult you throughout the design and construction process. Our team is fully licensed and insured for your peace of mind, and we stand behind all of our work. Revitalize your backyard and add real value to your property with a custom pool, spa, or hot tub. Our acrylic swim spa specialists serve the Greater Phoenix Area, including Mesa, Tempe, Chandler, Gilbert, Scottsdale, Maricopa, and surrounding cities. Customize your heavenly spa experience. Contact us today for a free quote and ask about our third-party financing options!