Acrylic Spas in Phoenix, Arizona
If you're looking to start living a life of luxury, then acrylic spas from Tribal Waters Custom Pools in Phoenix, AZ,are just what you've been searching for. At Tribal Waters, we offer unparalleled opportunities for custom spas that you'll love. With a wide variety of materials, colors, sizes, shapes, styles, and designs to choose from, you're bound to be able to put together the ultimate spa that you see in your dreams.
For unbeatable comfort and a world-class experience, give Tribal Waters the chance to customize an acrylic spa for you that will have you resting in the lap of luxury. Whether you want something simple and understated or something that's jaw-dropping with all the bells and whistles, our highly trained, highly experienced construction crew, and gifted design team will be able to give you a spa that will blow you away. Our customization process allows you to truly make your spa a creation all your own.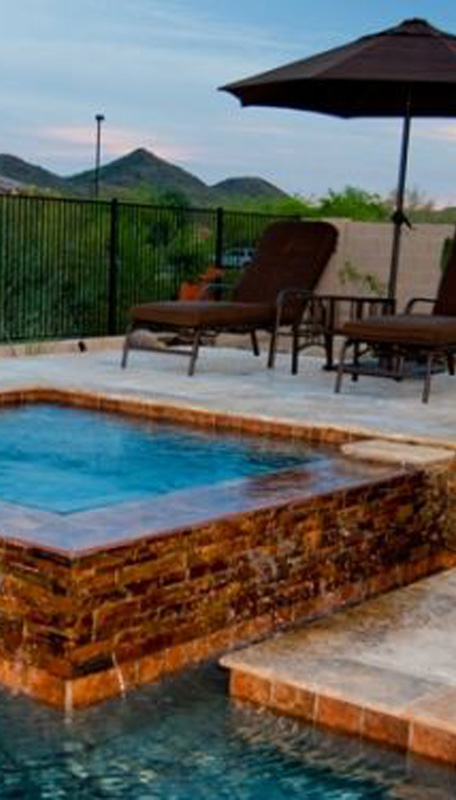 Benefits
Acrylic spas can provide you a luxurious and relaxing soaking experience that hot tubs and other spas can't compare to. With their myriad of benefits, it's no wonder why they're one of our most popular items. When combined with our customization options, you won't find another spa like the one you'll receive from us. Some of the benefits of an acrylic spa include:
Appearance: Acrylic spas offer an appearance that few other spas and tubs do. You can choose from several different colors, patterns, and materials, and wood paneling is also available to give it a more natural look
Comfort: Whereas wooden hot tubs don't offer much comfortable seating, our spas offer luxury in their design. Spas have features like cozy bucket seats, lounges, and head rests to provide comfort
Standard features: Most acrylic spas come with a broad range of features included in the standard price, such as powerful and varied jets, abundant seating, digital controls, and lights to help set the mood. Some even offer audio features, like radio or speakers that you can connect an iPod to
Simple maintenance: Our spas are relatively low maintenance when compared with most wooden hot tubs because as long as they're routinely cleaned, there's not much else you need to do. With wooden hot tubs, you'll have to make sure the wood stays treated and stained for optimal lifespan
Efficiency: Since they're well insulated, an acrylic spa will be more efficient than other competitors. It holds in heat and keeps the water warm, preventing it from pulling as much power as some of its poorly-insulated relatives
Durability: Finally, acrylic itself is extremely durable and strong. If the spa is structurally sound, you'll be hard-pressed to break it by accident or have it damaged from the elements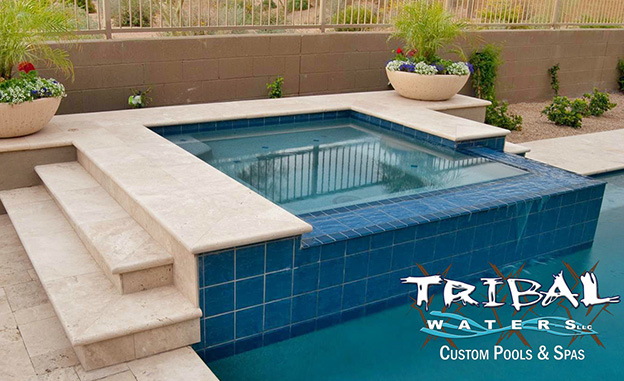 Customizable relaxation
When you choose Tribal Waters Custom Pools for your spa needs, you're choosing excellent craftsmanship and full customization. The power of choice is with you, our client, and our design team can help you draft ideas for custom spas that will look amazing and function excellently. We keep in stock a full variety of materials, colors, and style options so that you can customize to your heart's content. Every job is special to us and we're dedicated to every customer leaving their Tribal Waters experience with a smile.