Skip to Content
Let Tribal Waters Help You Customize Your Swim Spa Design
Have you taken the plunge and decided to invest in an in-ground hot tub or spa for your Phoenix, AZ property? The next step is choosing the best design and layout for your backyard oasis. Tribal Waters Custom Pools and Spas specializes in custom pool and spa designs without breaking the bank. Our designers can help you make the best decisions to create a beautiful, relaxing retreat for your family. While you could go the prefabricated hot tub route, a custom design allows you to get the exact shape, size, color, and features you want for a one-of-a-kind soak. Reach out today for a free custom estimate.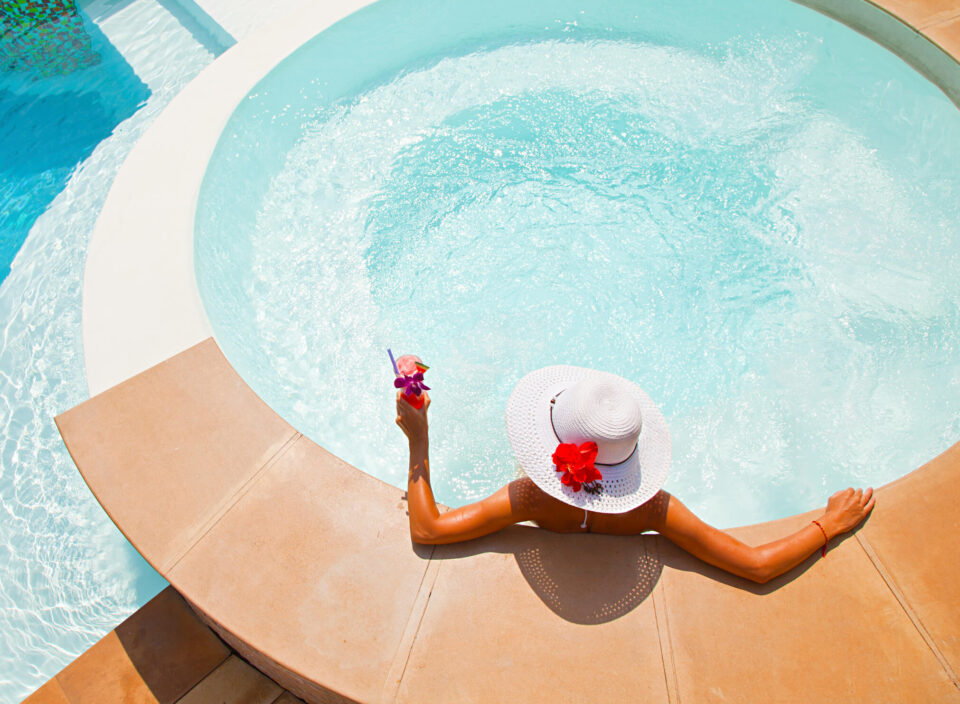 What Shape Is Your Dream Hot Tub? We Can Build It!
Today's acrylic hot tubs and spas come in all sizes and shapes, including circular, triangular, rectangular, and even heart-shaped. The most popular pool and spa shape is round or oval. A circular shape allows for a cozy seating configuration for those who plan to entertain often. Round hot tubs also have an aesthetically pleasing appeal, but don't let that deter you from thinking outside the box. A diamond, horseshoe, or hexagon-shaped spa creates a bold, unique look to make you the envy of your neighbors. If you have a small yard, semi-circles and geometric shapes make your space feel less overwhelmed. They can also give your backyard a more contemporary appeal should you ever want to sell your home.
The Best Ways to Incorporate a Pool and Spa Combination
Many of our customers want us to incorporate their pool and spa into the same design concept. When successfully integrated, your spa will look like it's part of your swimming pool. We can build your spa at one end of the pool or into a corner of it, with the pool and spa separated by a dam wall to keep your pool water cold and your spa water nice and toasty. One of the most popular ways to incorporate your pool and spa into the same design is the raised perimeter-overflow spa approach. This unique effect makes it look like your spa floats on top of your swimming pool. We achieve this look by setting the spa walls lower than your pool's water level, therefore making the water spill over the entire perimeter. We can enhance this look further by making the spa and pool tiles contrasting colors.
A Detached Spa Affords More Privacy and Intimacy for Owners
Perhaps you want your pool and spa to be separate entities. We can also build an in-ground hot tub as a stand-alone feature if you desire. Detached spas allow more privacy, which can be fantastic if you plan to use the hot tub for intimate evenings alone with your partner or a good book and a glass of wine. You can make your detached spa and pool design more cohesive by using the same shapes, patterns, or tile materials. If you have any additional concerns about choosing the right outdoor jacuzzi design for your needs, check out our acrylic spa frequently asked questions. You may also view our gallery for custom pool and spa design inspiration. We would be happy to help you design your dream pool and spa.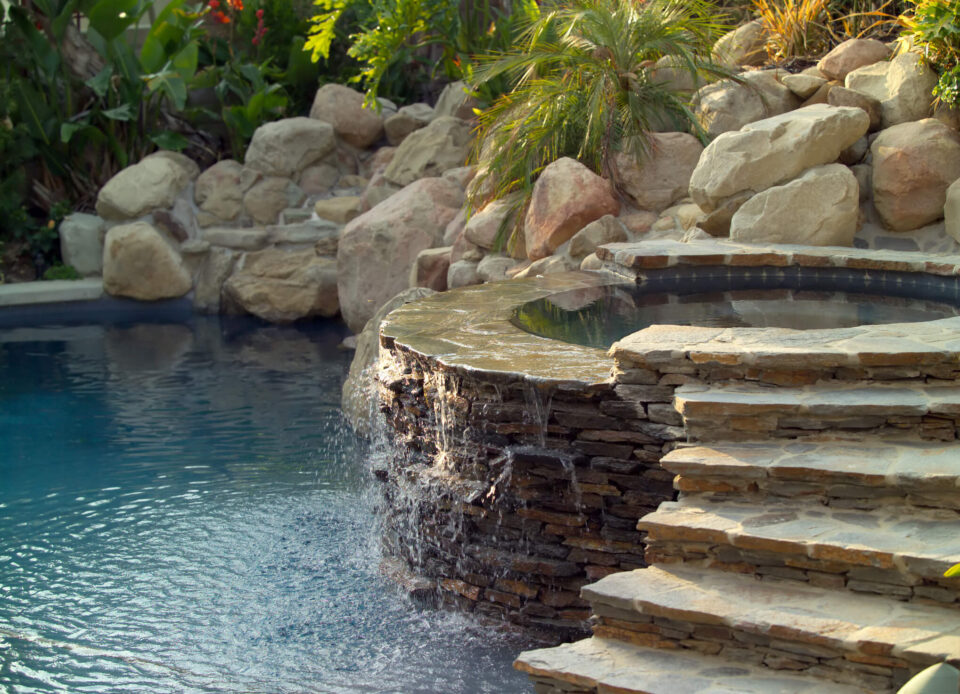 A Few Words of Advice About Your Swim Spa's Height
Once you've decided upon your swim spa's dimensions and shape, you'll need to give its elevation some thought. Most people want their spa and pool to be at the same level. However, building your spa slightly higher gives you more design possibilities. The most popular raised spa approach involves building your spa on a deck at least six inches above your swimming pool, although between 12 and 18 inches is usually the preferred elevation. A raised spa can be further enhanced with coping materials, such as brick pavers or even faux rocks to create a bolder or rustic look. Many also add water features like a cascading waterfall or spa jets to their raised spa to make it feel more relaxing or exotic.
Other Outdoor Jacuzzi Design Elements You May Want to Consider
Have you considered adding color-changing LED lights around your outdoor jacuzzi to set the mood? Some LED lights can be set on a timer or synched to alternate with the lights in your swimming pool. Adding a deck or patio around your hot tub can make it feel more intimate and inviting for your year-round pleasure and enjoyment. We've also been asked to add bubbling fountains, sprayers, and massaging spa jets to create a more relaxing, Zen-like experience inside your hot tub.
We Can Create Your Own Private Getaway in Your Backyard
Tribal Waters Custom Pools and Spas would love to help you create your own private getaway in the comfort of your backyard. Contact us today to learn more about our custom in-ground hot tub and spa designs in the Greater Phoenix Area. We offer our exceptional-quality pool and spa products and services to homeowners and commercial property managers throughout Maricopa County, including Chandler, Tempe, Scottsdale, Gilbert, Mesa, Glendale, and Peoria. Visit our showroom to learn more about our products or inquire about our available third-party financing options through A&A Pool Financing, Lyon Financial, and Credit Union West!