Skip to Content
Colorful, Whimsical Splash Pools to Suit Any Budget & Backyard
For anyone considering the possibility of adding a splash pool to their property, the customization possibilities are practically endless. Today's splash pads come in various sizes, shapes, and colors, making them the perfect addition to any landscape. As custom splash pad installation experts in the Greater Phoenix Area, Tribal Waters Custom Pools and Spas can help you create one-of-a-kind water features within your design. We've worked with commercial customers with budgets of all sizes. From entry-level to elaborate splash pads, no project is out of our range of expertise!
Customize Your Splash Pad Design With Unique Features
Splash pads are perfect for property owners who may not be looking to invest the costs or upkeep involved with a swimming pool. However, that doesn't mean you have to sacrifice any of the fun. Hundreds of water features are available to help you make the most of your splash pad design. Here's a quick look at some of the most popular elements you can add with the Tribal Waters team:
Jets & Other In-Ground Spray Elements
You can't go wrong with cost-effective in-ground spray elements, including misters, bubblers, spa jets, and arches. Create interactive fun with multiple sprays set on timers. Small children will be delighted by sprays shooting at varying heights, as they dart in and out of the dazzling water formations. Ask us about control valves, which give users the option of turning certain sprayers on and off for extra fun.
Energy-Efficient Splash Pad LED Lights
LED pool and splash pad lighting can help you keep your backyard water elements illuminated with fewer lights. Today's LED lights come in a rainbow of colors to complement any design scheme. Thanks to their lower wattage, LED lights offer better energy efficiency without skimping on their brightness. LED lighting also lasts longer than incandescent alternatives for an investment that pays for itself!
Slip-Resistant Rubber Surfacing for Safety
While splash pads are already a safer alternative to swimming pools due to their zero-depth water features, you can enhance your splash pad's safety with slip-resistant rubber surfacing. Minimize the risk of slip-and-falls occurring in your splash pool while lowering your liability and homeowners' insurance. You also won't have to worry about accidents, drowning, or water inhalation with a splash pad.
Themed Trees, Towers, and Animals, Oh My!
Create a theme for your splash pool design with trees, towers, flowers, and animals. Whether you've envisioned a zoo, jungle, or pirate ship, we can help you set the atmosphere with custom elements. The sky's the limit, as you use your imagination to design a one-of-a-kind play surface area for your community. Ask about commercial-grade elements that wear less over time to protect your investment.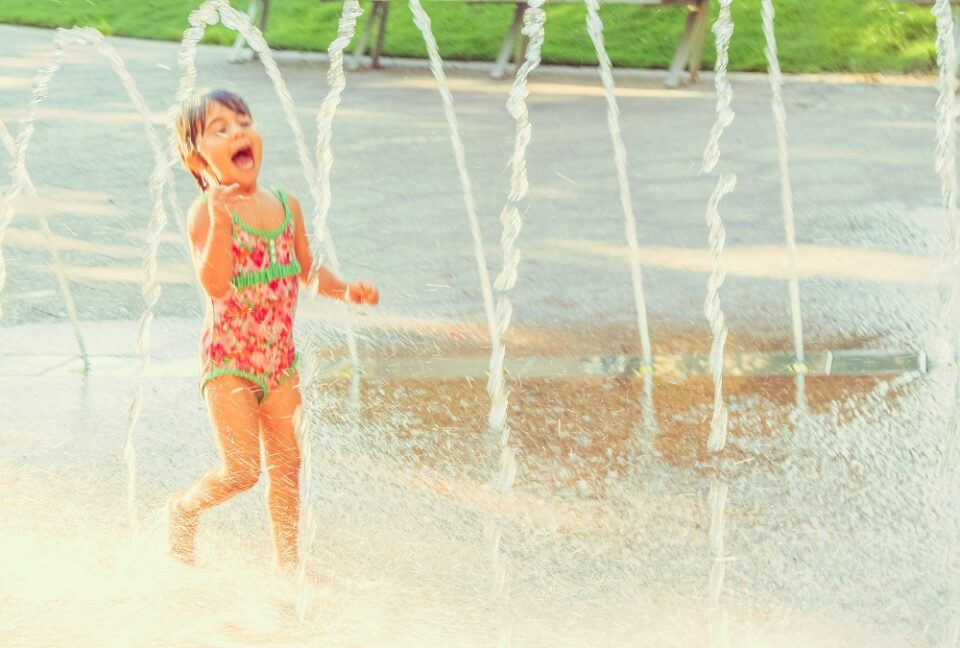 What Are the Benefits of Installing a Commercial Splash Pad?
A splash pad offers the appeal of a water park. The colorful, whimsical elements you can add make it attractive to kids of all ages, while the less expensive price tag and fewer liability risks make it attractive to property owners. While you should always supervise children around water, you won't have to worry about having a lifeguard on duty when you invest in a zero-depth splash pool. Children who don't know how to swim or who may be scared of water enjoy splash pads because they can interact with water elements at their own pace. Splash pools also keep pets cool year-round, which is especially important in Arizona's dry heat. Check out our splash pad frequently asked questions for more details about the customization options available at Tribal Waters Custom Pools and Spas.
Request a Custom Commercial Splash Pad Design Estimate Today
Whatever splash pad features you desire, Tribal Waters Custom Pools and Spas can accommodate. Contact our splash pad installation experts in Phoenix to request a free custom quote today. We've designed and installed splash pads for commercial property managers in Chandler, Maricopa, Glendale, Mesa, Scottsdale, Gilbert, Tempe, and many surrounding communities. While we strive to keep our products and services as affordable as possible, we also offer third-party financing through Credit Union West, Lyon Financial, and A&A Pool Financing. View our gallery to get inspired about the possibilities in time for your next project!