Skip to Content
Why You Should Invest in LED Lighting for Your Pool
Have you ever wanted to extend your swimming hours into the night but aren't sure how to effectively, safely, and affordably do so? At Tribal Waters, we're here to help you install LED lighting in your pool. Phoenix summers provide for long swim sessions. Don't let the sun going down stop you from enjoying your pool. We have a wide selection of LEDs for swimming pools in Phoenix. Learn about the many benefits of LED pool lighting and make your pool come alive at night! Contact us or visit our pool center today to get started.
Why LED Pool Lights?
LED pool lights are superior to incandescent bulbs for many different reasons. They offer you a plethora of benefits for your pool, including:
Energy efficiency
Wide range of aesthetics
Lack of filament that incandescent bulbs need which also creates heat
Built-in heat sinks to keep cool
Brighter than incandescent bulbs
Available in unlimited color options
Lower operation costs
Safer than incandescent bulbs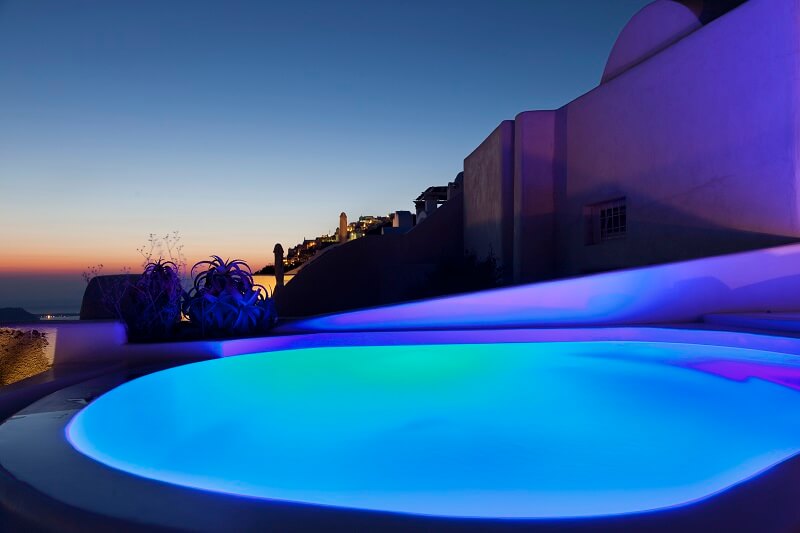 Unlimited Customizability
LED pool lights allow you to set your mood whenever you want. Incandescent lights create the same dated look. LED bulbs give you the freedom to create a new, modern, refined look in your backyard oasis. There are even light pairing apps that let you easily customize your pool's lights with the press of a button or a tap on your phone. Change the mood whenever you want with ease and little to no maintenance. Whether you're having a lively pool party or creating an intimate evening with your partner, LED bulbs create the perfect mood.
Maximize Energy Efficiency
As a pool owner, you know what all goes into running your pool daily. With filters, pumps, heaters, and more, pools use up a considerable amount of energy. Installing lights just adds to those energy bills, right? Actually, LED lights in your pool use a lower wattage but a brighter light to not have as nearly as big of an impact as incandescent bulbs would be. The lower energy use per bump produces the same brightness at a fraction of the energy. This also means less potential for dangerous heat. The lack of heat also means a lack of replacement costs. Replacing underwater incandescent bulbs can be as costly as it is tedious.
Long-Lasting Durability
Another reason we love LED lights in pools is their ability to last for what feels like forever. The average LED pool light lasts around 15-20 years. The longevity paired with the sheer amount of light they provide make them an easy pick for when it comes to illuminating your pool at night.
Let's Get Started
Selecting and installing new LED lights in your Phoenix pool is exciting. While your pool needs filtration and pumps, it's not always the most enjoyable aspect of owning a pool. Your pool's lighting is where you get to have some fun. Whether you know exactly what you want in your pool or need some help selecting LED lights, we're here for you. Contact us or visit our Phoenix pool service center to discuss installing LED lights in your pool.