Skip to Content
Custom Pool And Spa Installation
Our Services
When you bring water into your backyard, you're also bringing comfort, beauty, life, and good memories with your loved ones. At Tribal Waters Custom Pools in Phoenix, AZ, we're delighted to be a part of what brings your family closer together, so we make sure we do the job well. We use innovative 3D technology to bring your customized pool designs, hardscaping features, and acrylic spas to life before we install them. This allows us to give you an unbeatable view of your dreams so you know exactly what you're getting.
If you're investing in your backyard, you're investing in your home and your family. Don't risk it with someone inexperienced. Let our expert construction crew and talented design staff bring your favorite creation to life.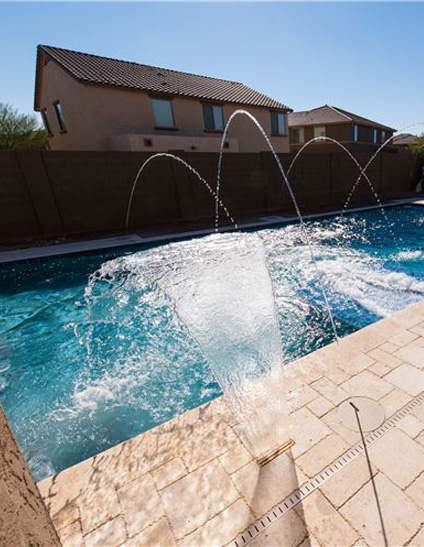 What we do
At Tribal Waters, we focus on making your dreams a reality. Using state-of-the-art 3D technology, innovative pool design experts, and an experienced construction crew, we'll work with you to make sure you get exactly what you want. You can choose from available designs and styles, or you can work with our design team directly to create pool designs that are all your own. Whether you're in the market for a new pool, water features, or a splash pad, at Tribal Waters know we can bring it to life and install it expertly, ensuring the whole process is as smooth and worry-free for you as possible.
Commercial and residential pools
One of our specialties at Tribal Waters Custom Pools is, of course, pools and pool designs, both commercial and residential. You can choose a style or design that we have in our showroom and tweak it to customize the details, or you can work with our design team to plan something totally unique. Whether you're the owner of a lodge and want to upgrade your guests' experience or you're part of a family that wants to enjoy more time together in the summer, we bring to life unique pool designs that are perfect for the Arizona lifestyle.