Skip to Content
Custom Pools in Greater Phoenix, AZ
Our Custom Pools Services in Phoenix, AZ
When you bring water into your backyard, you also bring comfort, beauty, life, and good memories with your loved ones. At Tribal Waters Custom Pools in Phoenix, AZ, we're proud of the role we play in bringing your family closer together, so we make sure we do the job well. Using innovative 3D technology, we bring your customized pool designs to life with detailing layouts to ensure your satisfaction before we install them. This design method allows us to give an unmatched visualization of your dream backyard, which ensures you know exactly what you're getting. Investing in your backyard also means you're investing in your home and your family. Don't risk the success of your project with an inexperienced contractor. Let our expert construction crew and staff of talented design specialists transform your dream creation from fantasy to reality.
Custom Pools, Spas, & Other Services
Tribal Waters Custom Pools & Spas offers a comprehensive list of services for your aquatic needs, whether they're for a commercial or residential property. We invite you to reach out to us for any of the following services: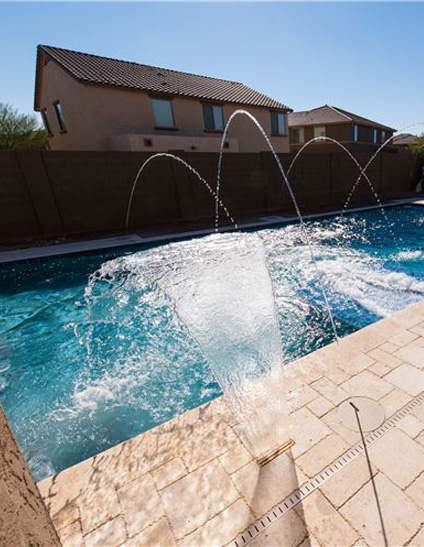 What We Do to Make Your Dreams Come True
At Tribal Waters, our focus on every project is to make your dreams a reality. To accomplish this, we use cutting-edge 3D technology, a highly skilled and experienced construction crew, and innovative pool design experts. These teams work together to make sure your custom pool, spa, landscape, or splash pad is exactly what you want. You're welcome to choose from our selection of popular styles and designs, or you can completely customize your pool design by working directly with our design team for an original concept. Whether you need a new water feature, a pool remodel, or an exciting splash pad for your children, Tribal Waters knows how to bring your fantasy to life. We make sure the entire process runs smoothly and as worry-free as possible from custom design through expert installation.
Improving Properties with Commercial & Residential Pools
Tribal Waters specializes in both residential and commercial pools design and construction. You can select an existing style or design from our showroom and make adjustments to customize the final product for your home or business, or you can collaborate directly with our design team to create a totally unique pool concept. Whether you're a commercial property owner who's upgrading your guests' enjoyment and experience, or your family wants to spend more quality time together during the summer, we have you covered. Our design experts and construction crew bring unique pool designs to life that suit the Arizona lifestyle perfectly. Trust Tribal Waters to Make Your Fantasy a Reality
We look forward to helping you elevate your residential or commercial property with a new custom pool, spa, or landscape. Whether you want a sleek, modern spa to relax in, or you've decided to convert your backyard into a beautiful, blooming desert oasis, Tribal Waters Custom Pools & Spas is ready to help you. We can start the process with a free estimate on your project, and then we'll work closely with you to ensure your dreams come true.